A Permanent Solution for Tooth Loss
Dental implants represent a common procedure of permanently replacing missing teeth without affecting neighboring teeth.
With the help of dental implants, we can fully remedy toothlessness and thus strongly improve chewing and speaking abilities as well as restore a beautiful smile.
Implants can also serve as carriers of a fixed dental bridge or denture.
What Can I Expect With A Dental Implant?
Permanent solution
Improved chewing and speaking
Natural function and look
Improved facial appearance
Prevention of bone loss
No special care required
Very sturdy and secure
No diet restrictions
Can be changed or updated
Should You Consider Dental Implants?
Dental implants are a great way to replace missing teeth and also provide a fixed solution to having removable partial or complete dentures. Implants provide excellent support and stability for these dental appliances.
Dental implants are artificial roots and teeth (usually titanium) that are surgically placed into the upper or lower jaw bone. Because of this, the teeth attached to implants are very natural looking and often enhance or restore a patient's smile!
Reasons For Dental Implants:
Replace one or more missing teeth without affecting adjacent teeth.
Resolve joint pain or bite problems caused by teeth shifting into missing tooth space.
Restore a patient's confident smile.
Restore chewing, speech, and digestion.
Facial tissues are restored or enhance
Support a bridge or denture, making them more secure and comfortable.
Implant Supported Dentures
An implant-supported denture is a type of over-denture that is supported by and attached to implants. A regular denture rests on the gums, and is not supported by implants.
An implant-supported denture is used when a person does not have any teeth in the jaw, but has enough bone in the jaw to support implants. An implant-supported denture has special attachments that snap onto attachments on the implants.
There are two types of implant-supported dentures: ball-retained and bar-retained. In both cases, the denture will be made of an acrylic base that will look like gums. Porcelain or acrylic teeth that look like natural teeth are attached to the base. Both types of dentures need at least two implants for support.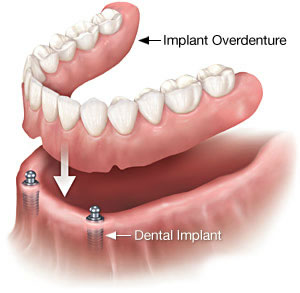 Ball-Retained Dentures (stud-attachment dentures):
Each implant in the jawbone holds a metal attachment that fits into another attachment on the denture. In most cases, the attachments on the implants are ball-shaped ("male" attachments), and they fit into sockets ("female" attachments) on the denture.
Bar-Retained Dentures:
A thin metal bar that follows the curve of your jaw is attached to two to five implants that have been placed in your jawbone. Clips or other types of attachments are fitted to the bar, the denture or both. The denture fits over the bar and is securely clipped into place by the attachments.
Please fill out this form to request your consultation. A member of our team will be in touch with you about your appointment as soon as possible.
Family Dental Services in Guelph
We pride ourselves on our high standard of patient care. Being a preventative practice, we are interested in your long term oral health. We offer a wide range of treatment options utilizing the latest technology. When you join the practice you join our family. Your needs are addressed with precision, compassion and understanding.
Clinic Hours
Monday: 8:00AM – 4:30PM
Tuesday: 8:00AM – 8:00PM
Wednesday: 8:00AM – 4:30PM
Thursday: 8:00AM – 8:00PM
Friday: 8:00AM – 4:00PM